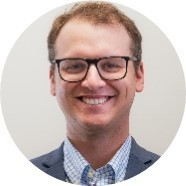 Michael Bertarelli
Senior Loan Officer
622 Emerson Rd., Ste 325
St Louis, MO
Mobile: 314-807-6440
Office/Text/Fax: 314-710-4333
NMLS: 1553457
About Me
For the las 7 years, I have honed my skills in customer service and product knowledge to be able to give my clients and referral partners the best mortgage experience in the industry. I take great pride in providing expedited and simple lending options to my clients so they can focus on the decisions that they care about the most. Mortgages can be complicated but that's what I am here for.
I live in St Charles with my 9 month old daughter, wife Megan and yellow lab Annie. My favorite things to do are to travel (even with the baby), spend time outside and watching or attending any sporting event I can.
Fun fact about me: I have been a trained knife/cutlery sharpener since I was 9 years old. My family has owned Bertarelli Cutlery on The Hill for the last 50 years which is where a learned the trade at a very young age and spent many summers working.
About Paramount Bank
Learn more about the history and transformation of Paramount Bank here.
The Home Loan Process
Learn more about the home loan process from start to finish here.