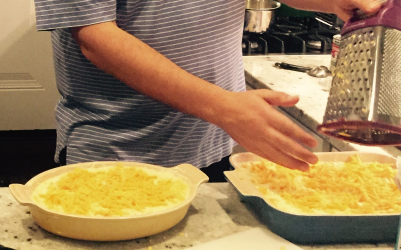 Everybody loves corn pudding to stay warm over the holidays! Can be made ahead of time, but don't add corn muffin mix until ready to bake. Triple or quadruple for leftovers or large family celebrations!!
Prep time: 15 m | Cook time: 45 m  | Ready in: 60 m
Ingredients:
1 can of creamed corn
1 can of whole kernel corn, undrained
1 cup of sour cream
2 eggs, slightly beaten
1 box of corn muffin mix, 8.5 oz
1/2 cup melted butter
2 cups shredded cheddar cheese, separated
Directions:
Preheat oven at 350.
Grease dish.
Mix eggs, sour cream, butter, 1 cup of shredded cheese, and corn.
Fold in muffin mix.
 Pour in dish and top with 1 cup of shredded cheese.
Bake at 350 for about 45 minutes.