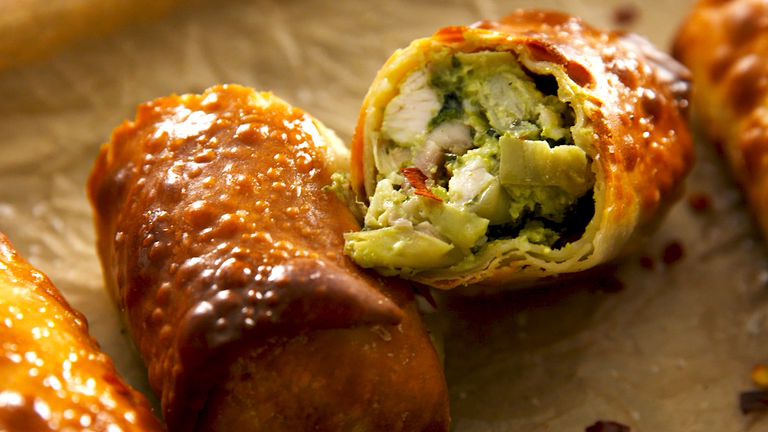 Everyone's party has wings, nachos, little smokies, etc., but you could really hit the uprights this year with something different. Check out this delicious recipe! Get the two point conversion for using an air fryer instead of a traditional oil fryer.
Quantity: 4 egg rolls | Prep time: 25 minutes | Cook time: Air Fryer – 15 minutes/batch, Traditional Fryer – 1-2 minutes/batch
Ingredients:
2 cups

cooked shredded chicken

2

avocados, peeled and pitted

1

(8-oz) block cream cheese, softened

1

(10-oz) packaged frozen spinach, defrosted and drained

1 cups

chopped artichoke hearts

1

clove garlic

1 tbsp.

freshly chopped parsley
Kosher salt
Freshly ground black pepper
Pinch crushed red pepper flakes

16

egg roll wrappers

2 tbsp.

vegetable oil
Directions:
In a large bowl, combine and mix chicken, avocados, cream cheese, spinach, artichokes, garlic, and parsley.
Season with salt, pepper, and a pinch red pepper flakes to taste.
Set an egg roll wrapper in a diamond shape in front of you and spoon about 2 tablespoons of the mixture in the center. Fold up bottom half and sides, then gently roll, sealing seam with a couple drops of water. Repeat with remaining filling and wrappers.
Brush egg rolls with oil. (If using traditional fryer, skip this step.)
Working in batches, place egg rolls in basket of air fryer, seam side down, and cook at 400° for 15 minutes. (If you don't have an air fryer, set your fryer or pot of oil on high and cook for 1-2 minutes or until golden brown.)
If using a traditional fryer, soak up the oil with a paper towel after you take the egg rolls out of the fryer.
Serve!
Recipe appropriated from Chelsea Lupkin via delish.com.