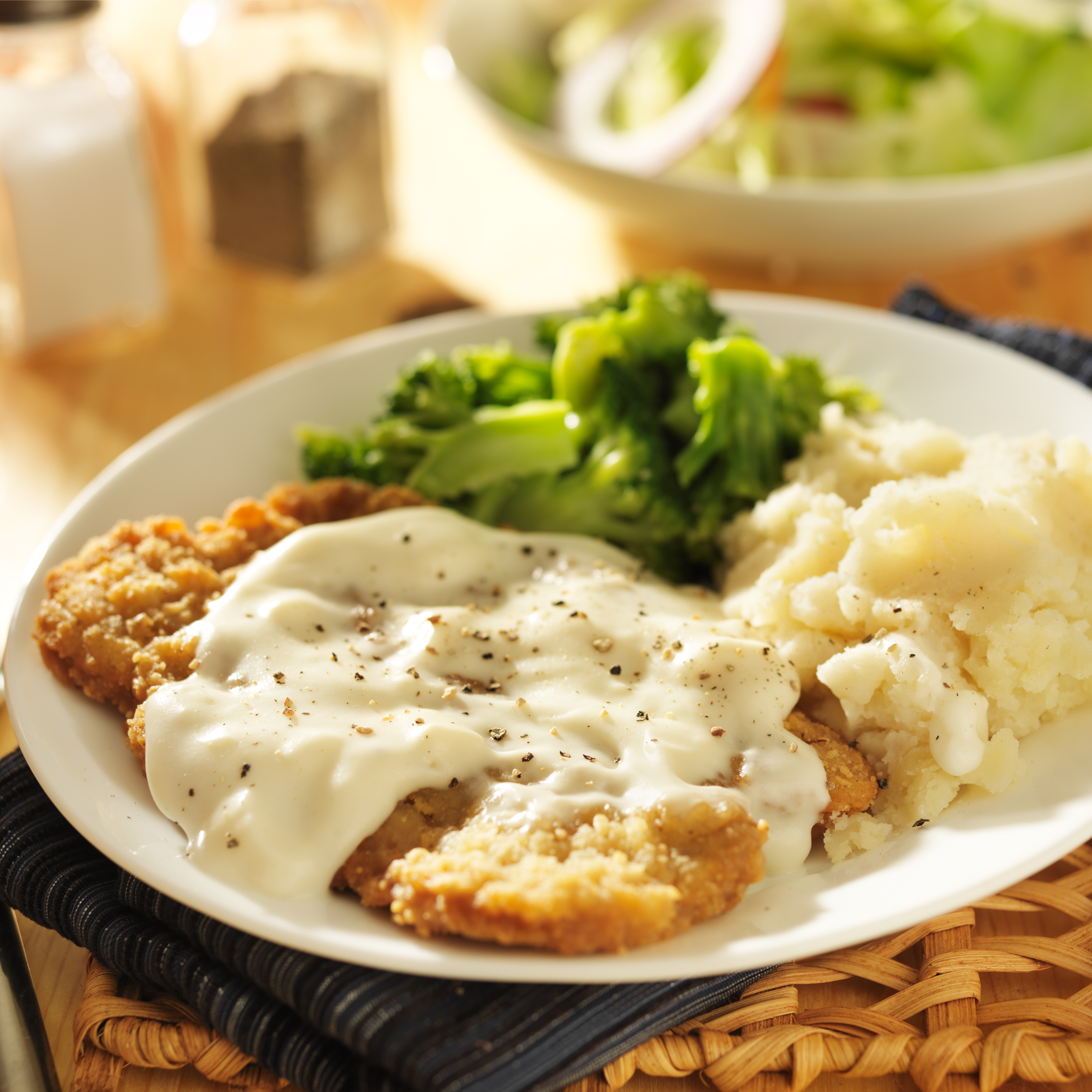 October 26th is National Chicken Fried Steak Day, so here's our take on the famous blue plate special.
Ingredients:
Cube steak
Potatoes
All-purpose flour
Vegetable oil
Butter
Milk
Cream cheese
Salt
Black pepper
Paprika
Directions:
We suggest getting the potatoes going while you are cooking the steaks. Gravy should follow, as it requires more attention.
Mashed Potatoes:
Peel potatoes if so desired.
Place large pot on the stove and bring water to a boil.
Dice potatoes and put them in the pot.
Allow potatoes to cook long enough that a fork can slide into one with minimal effort. This will typically take 10-15 mins.
Drain potatoes in a colander.
Place pot back on the stove and set to low-medium heat.
Put one table spoon of butter per potato in the pot, let melt.
Throw the potatoes back in the pot and either use a potato masher or a hand mixer to mash potatoes. (Don't have either of those? Try mashing them with a whisk.)
Add 1/4 cup of milk per potato to the pot and mix.
Add one table spoon of cream cheese per potato and mix.
Add salt and black pepper to taste and mix. Be careful with the salt, this is a salty meal already!
Fried Steak:
Place vegetable oil into a skillet at medium-high temperature. Make sure to have enough oil in the skillet to be a quarter inch deep. (If you have a actual fryer, this is your cue.)
Put flour into a large zip-lock bag with a moderate amount of salt, black pepper, and paprika. Seal and shake to mix.
Put one cube steak in the bag at a time and carefully shake the bag to evenly coat the steak with flour. Repeat until you have all of your steaks covered, and put them aside.
Place your steaks on the skillet. (Suggestion: Use a long spatula to avoid burning your hands/arms.)
Flip steaks when the bottom reaches a brown color. If there's any un-fried flour showing, use your spatula to drizzle some hot oil on it.
Take steaks off the skillet when they are cooked and place them on paper towels to soak up the oil.
Gravy:
Put a medium sauce pan on the stove and set to low-medium heat.
Place butter into the sauce pan and let melt. (We suggest 4 tablespoons per serving. Go big, or go home.)
Slowly add flour to the pan while mixing with a whisk. You want to keep adding flour until the consistency resembles a loose paste. (This is commonly referred to as a roux.)
Slowly add milk to the pan while mixing with the whisk. The consistency should be a little runnier than the end product.
Add salt and pepper to taste and mix.
The consistency should be thickening up now. If not, mix for a minute or two and check again. If it is at a satisfactory consistency, set the pan to low and begin to serve. If the consistency isn't right, no need to fear! You can add milk or flour slowly to adjust the consistency; this is a push and pull recipe. Remember that heat and mixing will make the sauce thicker over time.
Serve: Put steaks and potatoes and place the gravy atop! We recommend adding a vegetable to the meal to make you feel better about all of this comfort food! (Your mom would be proud.)