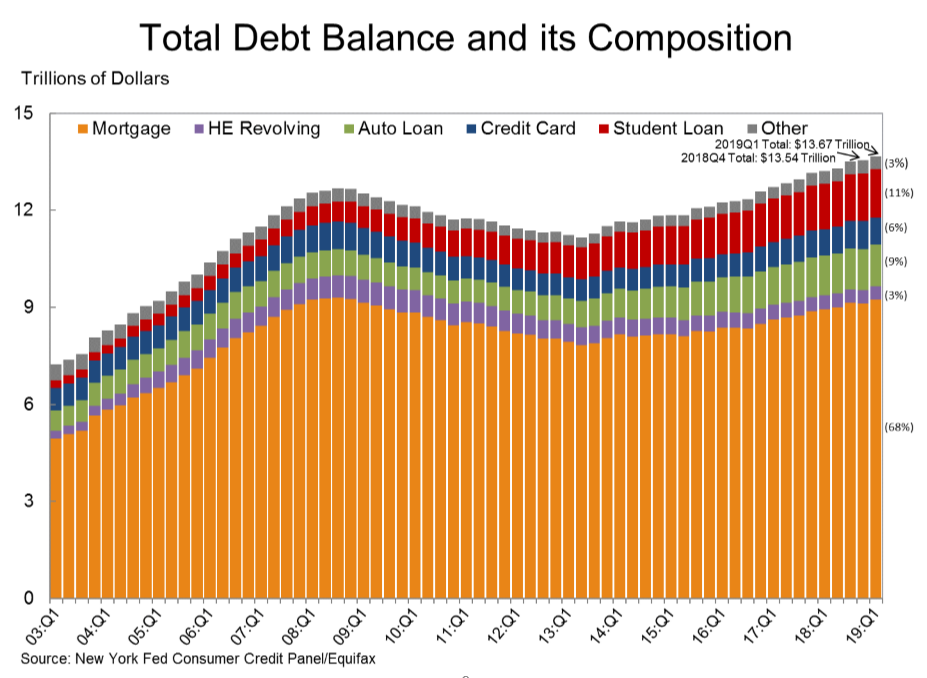 The Federal Reserve Bank of New York's quarterly report indicates total household debt shot up almost 1 percent by $124 billions to $13.67 trillion.
Housing Debt

Mortgage balances rose by $120 billion, to $9.2 trillion.
Mortgage originations declined to $344 billion from $401 billion, the lowest level seen since the third quarter of 2014.
Mortgage delinquencies improved slightly, with 1.0% of mortgage balances 90 or more days delinquent, down from 1.1% in the fourth quarter of 2018.

Non-Housing Debt

Outstanding student loan debt increased by $29 billion, to $1.49 trillion.
Newly originated auto loans totaled $139 billion, continuing a long-running growth trend.
Credit card balances fell slightly, to $848 billion from $870 billion.

Bankruptcy Notations and Credit Inquiries

About 192,000 consumers had a bankruptcy notation added to their credit reports, on par with the total from the first quarter of 2018.
The number of credit inquiries within the past six months—an indicator of consumer credit demand—declined to around 137 million, the lowest level seen in the history of the data.
Contact a mortgage banker at Paramount today if you need help with cash-flow to complete a home improvement project or pay off debt leveraging the equity in your home.