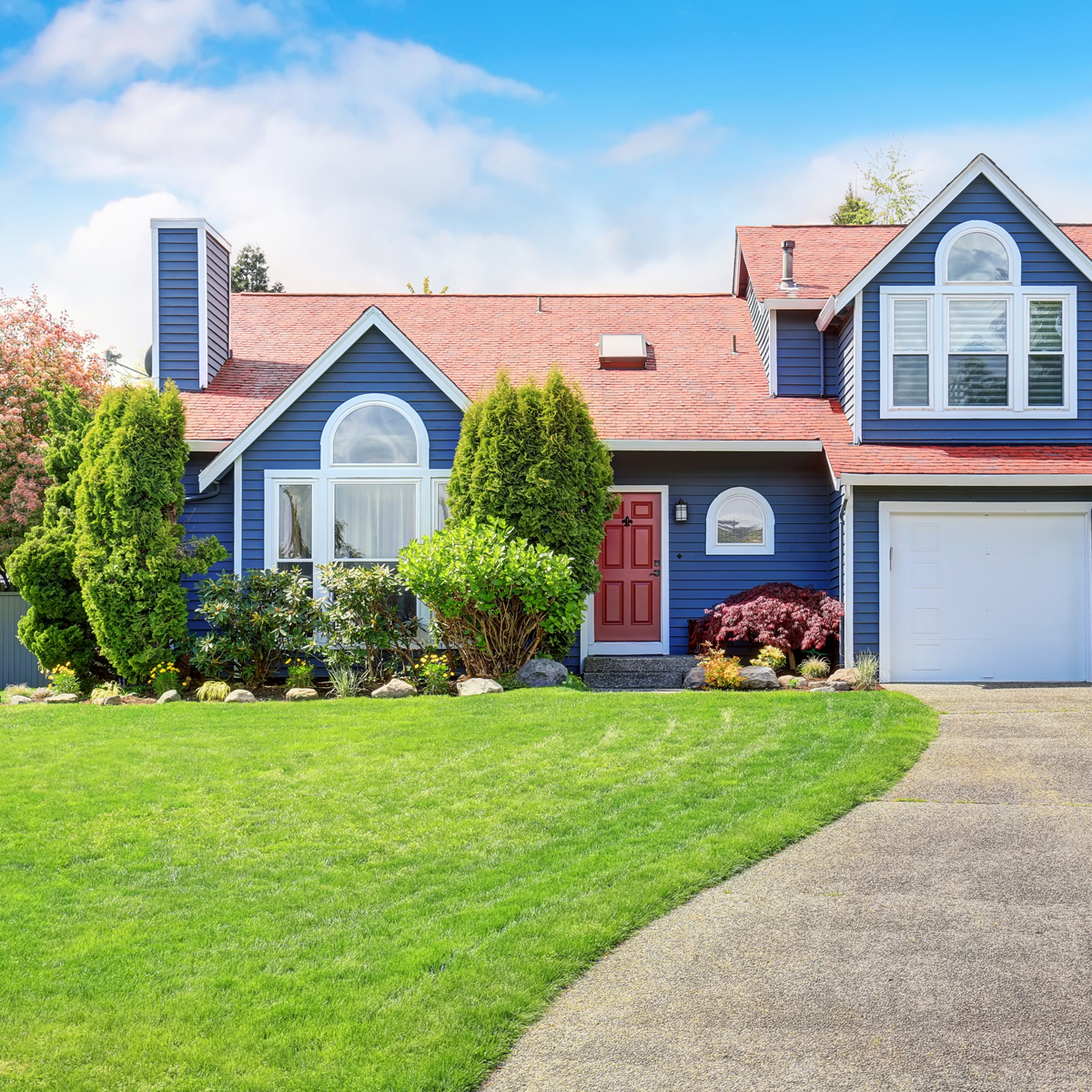 Something that most homeowners often overlook is how their house looks from the street, better known as curb appeal. Curb appeal doesn't only improve the overall look of your house, but it can increase the value of your home as well when it comes time to sell. There's a multitude of ways to improve your curb appeal, but you don't have to spend tens of thousands of dollars on professional landscaping. Here's a few tips and tricks that will greatly improve your curb appeal in the long run. 
Keep Your Yard Clean
This one is pretty straight forward, and only takes an hour or so of your time a week. Clean yards are one of the first things some look at when assessing whether or not your home is right for them. It should go without saying that the average home buyer is looking for a yard that has been receiving regular upkeep. You don't have to increase the volume of the foliage present in your yard. Make sure that you're keeping the grass short, clippings raked, and that there's no missing patches of grass. Little things like this could lead to a larger price tag on your home. 
Decorate the Porch
When shopping for a house, some buyers will want to see what they can do with the porch. Luckily you can give them an idea. Decorating your porch may seem overwhelming, but a quick journey through something like Pinterest might give you ideas to start with. You don't have to put hundreds of dollars into the decoration to make it stand out. Painting the door and changing the handle are simple things you can do to change things up. Now let's talk about seasonal decorating. Who doesn't love decorating for the holidays? Your porch is the perfect place to display jack-o-lanterns in October, hang your American Flag in July, or show off your arrangement of Christmas lights in December. Your porch is the perfect place to catch the attention of some potential home buyers during a holiday, just remember not to overdo it if your house is on the market. Make it  apparent enough that your porch is the perfect place to go all out for each holiday, if someone wanted to. 
Lighting is Key
Lighting is an ideal feature for your yard and porch. Throughout the day your neighbors and those who pass by can see that amazing work you've done maintaining your yard, but at night it could be different. Don't leave it up to imagination. Lighting options can be cost effective, adding a few lights to your porch, along with solar powered walkway lights are a great way to illuminate your yard. Add value in the long run as you slowly decide to update the lighting if you see fit. 
The Greener the Better
Yards with more and more foliage are becoming increasingly popular with homeowners. As stated above, your yard doesn't need to have an excess of flowers and various other plants, but it won't hurt if you do. Hiring a landscaper to improve the overall quality and add some vegetation will always brighten your yard. Depending on the budget, the landscapers can add some hardscaping that will pair with the added foliage. Be sure to take your time when searching for the right landscape architect, and be sure to dive deep into the reviews. Chances are if they truly are experts, the reviews on the Facebook, Google Page, Yelp, etc. will reflect it. 
Small Problems Might Become Bigger Problems
Driveway cracks may always appear minor, but over time as the concrete settles more, the cracks will continue to increase in size. This is never a good look when potentially buyers are walking up to your home. Sometimes these can be an easy DIY fix, but it's always best to contact an expert and see what they have to say about it. 
Overall, a simple yard or an outstanding one will both get the job done. Remember to keep your own personal taste in mind, while still retaining your overall ideas neutral enough that can appeal to a more broad audience if you are looking to sell your home. Just remember that a little bit of yard work and creativity can go a long way.