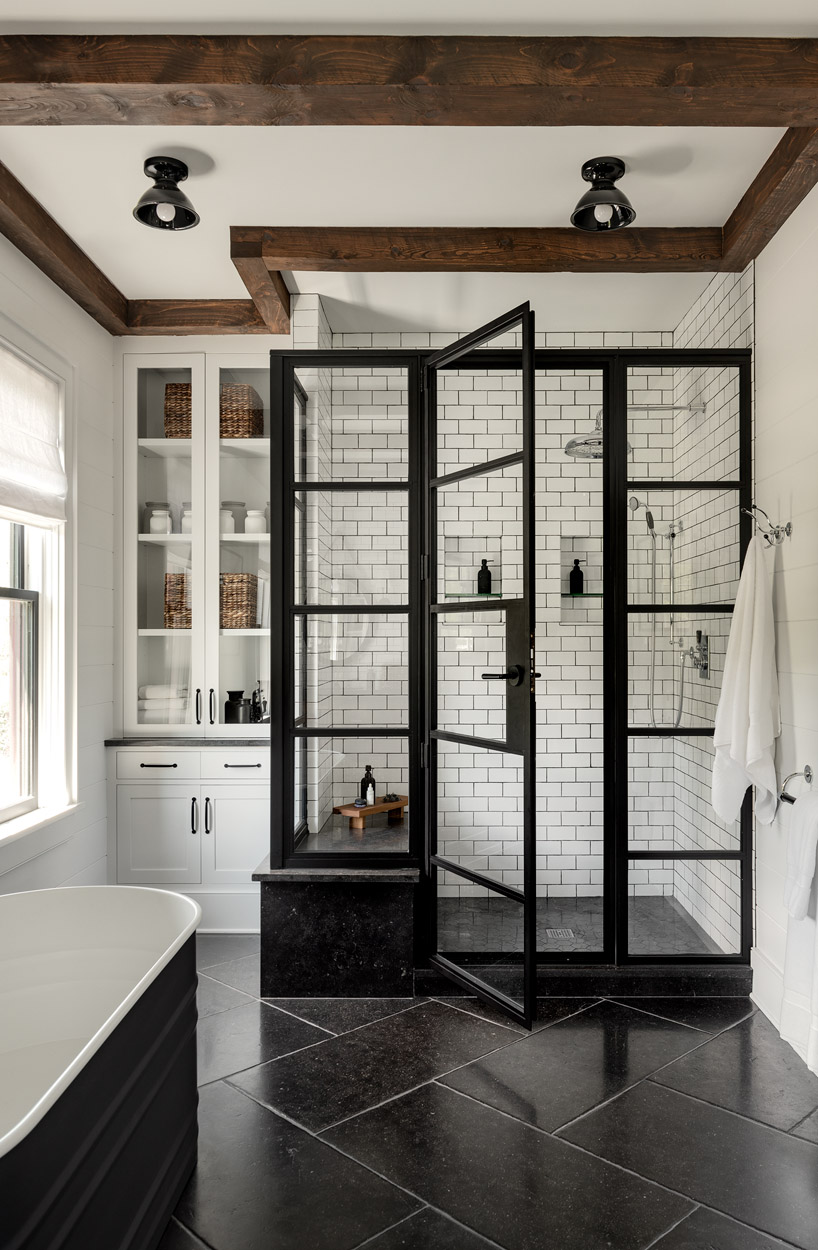 Check out our modern bathroom style guide to help modernize your pad.
Whether you're looking to sell your home or simply upgrade your space, these tips can help your bathrooms feeling fresh and modern.
The Modern Bathroom Style Color Palette
Long gone are the days of bright, singular color schemes in bathrooms. So too are the carpeted toilet seat coverings (bonus tip).
In place of mono-color scheme bathroom paint, consider the modern bathroom color palette of black, white, grey, and hints of gold. Our modern bathroom style guide is geared toward this look, which has steadily gained in popularity over the recent years.
The black and white color pattern typically dominates spaces like the shower wall splash, cabinets, and even some light fixtures. White on the rest of the bathroom's walls is a must. You want the space to feel modern, not spooky (unless that's your style, then go for it!)
Gold should be used sparingly. Mirrors with gold frames are available at all manor of home improvement stores and decor sections of major retail outlets like Target or Ikea. Not only do you not need access to U.S. Gold Reserves, you can save some cash by taking advantage of the gold-framed-mirror bounty.
Remember to make your colors work for you. Consistency is important, especially if you're looking to put your house on the market soon. Modern buyers will notice poor workmanship. That includes not taking the time to "see" your modern bathroom before applying fresh paint.
Update Your Bathroom Sink Area
You don't have to go "hog-wild" to update your bathroom sink area.
There are plenty of look-alike materials that perform similar to expensive granite. Top points will be given for picking a material to match the new color scheme in your bathroom.
If you have a stand-alone sink space in a smaller bathroom, brilliant combinations of single-sink countertop and below-sink storage space should be available at your hardware store.
Another bonus tip: if you have the space, consider installing a new chrome towel holder or towel rack. You provide a convenience to your guests with hand towels near the sink, but also add that extra bit of "shine" for a potential home buyer.
Keep It Simple – Your Bathroom's Long Lasting Appeal
This style guide is merely a suggestion of how to keep your bathroom looking great for a long time.
The color scheme and sink suggestions are only part of the equation. By keeping it simple, you create a living space that is enjoyable to use time and time again.
Simple contrasts in color and modern finishes around the appliances will keep the room feeling light. You can add your own personal flair, of course, with things like wicker baskets for spare towels or cleverly-integrated laundry hampers.
Too much clutter will hurt the flow of the space, and could provide signs to a potential buyer that you rushed through the space. Signs of a rush-job bring up valid, even if irrational questions such as; what did not get completed? Are vital appliances working properly? Is there damage that we can't immediately see?
Keep it simple, be thorough, and make your bathroom habitable for you and a potential home buyer down the road.
—
If you're looking to take advantage of your property's equity and give your bathroom a serious makeover, chat with our refinance experts today!