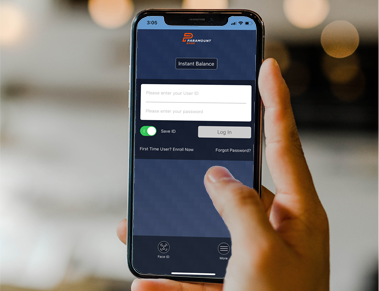 Paramount Bank Interest Checking gives our customers access to a wide array of modern tech and people-focused customer care.
Now is a great time to join the Paramount Bank banking family.
With Paramount Bank, there are several reasons to bring your money into our trusted FDIC-insured vaults. Let's break down some of the benefits below.
Earn More with Paramount Bank Interest Checking
You work hard for your money.
Does your current bank pay you interest on top of what you earn at work? Do they pay you 1.75% Annual Percentage Yield (APY)?
Paramount Bank pays you for having a checking account with us, and we pay handsomely on top of your account balance.
As of November 12, 2019, Paramount Bank is pleased to offer 1.75% Annual Percentage Yield (APY) across all balance tiers*. That's near the top of not only small-banks, but larger banking institutions across the United States.
Opening an account with $50? $500? $5,000?
Congratulations, you've just set in motion your very own yield earnings with Paramount Bank.
Mobile Banking Infuses Tech with Paramount Bank Customer Care
As part of opening a Interest Checking account with Paramount Bank, you gain access to our App Store® or Google Play® mobile app.
Both the Google Play® and App Store® app allow you to review your account balance at a glance. You can also take the stress out of balancing your budget with Paramount Bank Budgets.
Budgets has been linked with over 18,000 financial apps to help you track expenses and income all in one convenient location.
Pay bills, send money to friends (or collect on up-front costs), and so much more.
Paramount Bank Customer Care Without the Branch
A big part of what makes Paramount Bank so special is our customer care team.
Here's the big secret; you don't need to visit a branch to experience their care first-hand.
In addition to Interest Checking account access, you can access our customer care at your fingertips.
Paramount Bank has a small-bank feel with big-bank benefits. Our customer care is focused on your needs.
Whether you access our customer care support through the Mobile Banking app or by speaking to one of our representatives, Paramount Bank will always work to help you to the best of our ability.
Get Your Interest Checking Experience Started Today
Click here to start your Interest Checking application with Paramount Bank.
The application takes only a few minutes to complete via our secure network.
Once Paramount has approved your application, you'll be able to start depositing your hard-earned money and start getting paid that sweet, sweet interest.
What are you waiting for? Experience the Paramount Bank difference today!
Disclaimers
*The Annual Percentage Yield (APY) of the Interest Checking Account is 1.75% as of November 12, 2019 for balances of $500,000 or more, 1.75% for balances of $100,000–$499,999, 1.75% for balances of $50,000–$99,999, 1.75% for balances of $5,000–$49,999, and 1.75% for balances of less than $5,000. Rates are subject to change daily and fees may reduce earnings. No minimum initial deposit is required to open an account, but the account must be funded within 30 days to remain open. APY may change at any time before or after account is opened. Call 833.731.0229 for the most up to date rates. Member FDIC.