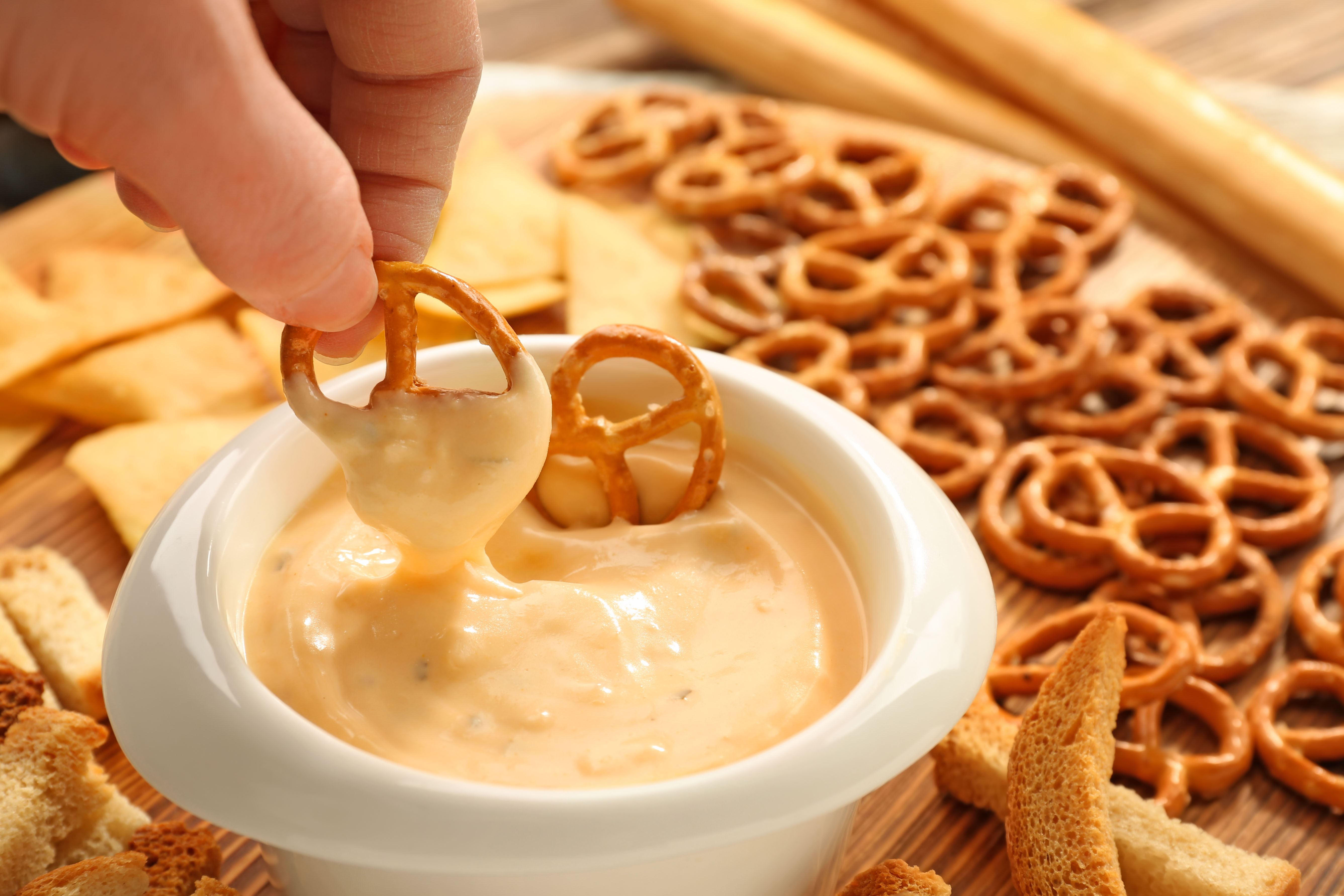 It's football time. Let's make something to snack on while your team battles it out on the gridiron.
Prep time: 15 m | Ready in: 30 m
Ingredients:
Pretzels
1 can Pillsbury™ Refrigerated Breadsticks
2 tablespoons unsalted butter
Pretzel salt
Beer Cheese
2 tablespoons unsalted butter
2 tablespoons all-purpose flour
1 teaspoon onion powder
1/2 teaspoon sage
1/4 teaspoon ground mustard
1/2 teaspoon salt
1/2 teaspoon black pepper
2/3 cup lager beer (We suggest against using light beer. Try a lager that is heavier, but not too hoppy.)
1/3 cup heavy cream
8 oz shredded cheddar and/or Gouda cheese
Directions:
Pretzels
Preheat oven to 375°F.
Place parchment paper on baking sheet OR lightly oil baking sheet
Melt 2 tablespoons butter
Unroll breadsticks and fold all of them into pretzel shape (or don't, it all tastes the same…)
Place pretzels on baking sheet.
Brush with melted butter
Sprinkle with pretzel salt.
Bake 12-14 minutes until golden brown.
Beer Cheese
Put a saucepan on the stove and set to medium heat.
Melt 2 tablespoons butter in pan.
Combine beer and heavy cream in separate container.
Add flour to saucepan slowly and whisk to make a roux.
Add onion powder, sage, ground mustard, salt, and black pepper to the pan.
Cook for 1-2 minutes. Whisk lightly to maintain consistency.
Slowly pour beer and heavy cream into pan and whisk to create a gravy-like consistency. Add more beer to thin consistency.
Add shredded cheese and mix until melted.
Serve immediately with pretzels and enjoy!